Manual Oil Press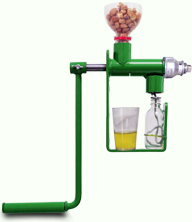 Features:
Continuous pressing of oil seeds and nuts (undecorticated, no pre-treatment required ! )
More than 10 types of seeds can be pressed!
(peanuts, rapeseeds, sesame, copra, cottonseeds, hazelnut, linseed, oil palm kernel, pumpkin seed, sun flower seeds, walnuts).
High oil production: Up to 1.5 litres oil per hour
Small size:
350*60*316.5mm, fits in A4 envelope(2.18 kg / less than 5 pounds)
Portable, one person is able to operate anywhere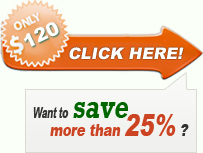 Walnut
How to Make Walnut Oil at Home
Make walnut oil at home is not a difficult thing today! A small easy operated hand crank oil expeller will help you do the job. From now on, you can make delicious healthy walnut oil at home anytime you want!
First of all, walnuts should be pressed well dried and deshelled including the thin seed coat. The whole seed enter slowly into the screw of the hand operated walnut oil press which is why the oil yield is lower. Bridge formation occurs in the inlet funnel and a small stick should be used to move the material into the expeller screw. Remove all stones before putting any material into the walnut oil press expeller. Turn the crank at 45 - 50 rounds per minute to allow the oil to flow to the oil outlet. Clean oil outlet regularly.
Walnut Oil Press
This
walnut oil press
expeller is a small oil press with hand crank which is less expensive and much easier to operate than bigger oil press machines. It is very convenient to use and can process a large number of seeds and nuts besides walnuts.
Dimensions of Our Manual Walnut Oil Press
Maximum 8 expellers / box ( 19.5 KG = maximum weight for normal airmail freight)
| | |
| --- | --- |
| Dimension | 20 x 13 x 6 CM (app. 8 x 5 x 2.5 Inch ) |
| Total Weight | 2.3 KG ( app. 5 LB ) (Users manual included) |
Settings of the Walnut Oil Press
★ Frist allow a free flow of the press cake and subsequently gradually close the press cake outlet by turning the terminal adjustment bolt until the press cake appears as thin strings.
★ Turning of the crank goes lightly at 60 rounds per minute.
Health Benefits of Walnut Oil
Walnut oil has a rich, nutty flavor that is perfect for salad dressings, to flavor fish and steaks, to toss with pasta, and to jazz up desserts. Walnuts and their oils are excellent sources of omega-3 fatty acids. Walnuts and/or walnut oil provide hefty levels of Vitamins B-1, B-2, and B-3, coupled with Vitamin-E and niacin. Most of the research on the health benefits of walnuts has focused on consumption of the nut itself, although interest in walnut oil has grown over the last decade. The health benefits of walnuts and walnut oil are similar if the oil is unrefined, fresh (6 month shelf life), and uncooked. However, the serving size of walnut oil is less than the amount of walnuts needed to get the same nutritional benefit.
Buy AGICO manual walnut oil press today and have a better in the future. Want further information about our expeller? Please kindly send your query in the following form.We are always at your service.