Manual Oil Press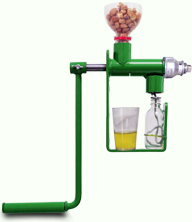 Features:
Continuous pressing of oil seeds and nuts (undecorticated, no pre-treatment required ! )
More than 10 types of seeds can be pressed!
(peanuts, rapeseeds, sesame, copra, cottonseeds, hazelnut, linseed, oil palm kernel, pumpkin seed, sun flower seeds, walnuts).
High oil production: Up to 1.5 litres oil per hour
Small size:
350*60*316.5mm, fits in A4 envelope(2.18 kg / less than 5 pounds)
Portable, one person is able to operate anywhere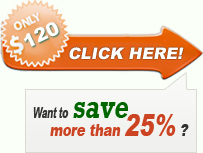 Mounting
Homemade Oil Press
The homemade oil press is a screw type small hand crank oil press that can be used any where at any time. With this machine, you will easily make your own healthy oil even at home!
Components of the Homemade Oil Press
This hand crank homemade oil press is composed of frame, press part, driver part and heating part etc. From environmental protection and recycling aspects, material feeding/collecting equipment can be replaced with a used PET drink bottle, which is prepared by buyer.
How to Assemble Our Homemade Hand Crank Oil Press
★ Before operation please fix the frame and make sure crank can be turned freely.
★ Lubricate washer with edible oil and insert on screw shaft from the small end.
★ Insert screw shaft in press cage.
★ Screw on press cage cap and screw on terminal adjustment bolt.
★ Attach crank arm to screw shaft and tighten the bolt. 6. Fill 80% fuel to the lamp bottle (kerosene or alcohol). Pass a 15cm wick through the washer. 7. 7. Leave 0.5cm of wick outside and put the longer end in the fuel bottle. Place washer at the bottle mouth. Place the lamp under press cage. Secure the lamp with rubber band.
Hand Crank Oil Press Fixed on the Table
Hand Crank Oil Press Fixed in the Packing Box
Welcome to get in touch with us anytime you feel interest in our new type homemade oil press. We are always at your service!