Manual Oil Press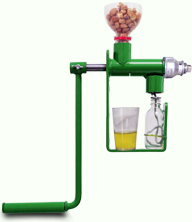 Features:
Continuous pressing of oil seeds and nuts (undecorticated, no pre-treatment required ! )
More than 10 types of seeds can be pressed!
(peanuts, rapeseeds, sesame, copra, cottonseeds, hazelnut, linseed, oil palm kernel, pumpkin seed, sun flower seeds, walnuts).
High oil production: Up to 1.5 litres oil per hour
Small size:
350*60*316.5mm, fits in A4 envelope(2.18 kg / less than 5 pounds)
Portable, one person is able to operate anywhere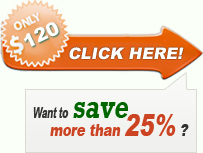 Coconut / Copra
How to Make Coconut Oil
Dry procedure: The coconut should be well dried under sunshine or special process. Afterwards it should be grated or cut into small pieces of 5 to 10 mm. Put the well dried copra into the inlet of the coconut oil expeller. Turn the crank at 50 - 55 rounds per minute to press the coconut oil out of the outlet.
Wet procedure: Fresh coconut is grated and sundried afterwards to a very dry "saw dust" condition. Bridge formation occurs in the inlet funnel and a small stick should be used to move the material into the inlet of coconut oil press. Turn the crank at 45 - 50 rounds per minute to allow the oil to flow to the oil outlet. The copra oil meal can be used as the animal fodder.
If you are looking for Small Coconut Oil Machine for Business Use, please sea more at ABC Machinery, here you can always get an ideal one!
Nowadays, the process of coconut oil pressing is done by pressing copra to produce coconut oil (70%); the by-product is known as copra oil cake or copra oil meal (30%)
.
Coconut Oil Press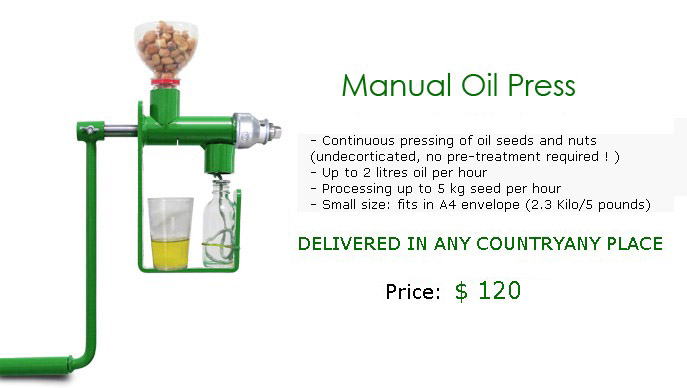 Dimensions of Our Manual Coconut Oil Press Expeller
| Dimension | Total Weight |
| --- | --- |
| 20 x 13 x 6 CM (app. 8 x 5 x 2.5 Inch ) | 2.3 KG ( app. 5 LB ) (Users manual included) |
Note: Maximum 8 expellers / box ( 19.5 KG = maximum weight for normal airmail freight)

Why Coconut Oil?
Coconut oil is commonly applied in cooking, especially for frying and is a common flavor in many South Asian areas. In recent years, virgin coconut oil has increasingly become popular in natural food cookings and with vegetarians. It was represented in a New York Times article as having a haunting, nutty,flavor that also has a feel of sweetness, which works well in baked goods, pastries, and sautés.
Coconut oil can be extracted using either mechanical presses, or solvents (hexane). Mechanical pressed copra meal is of higher feeding value, because it contains typically 8-12% oil, whereas the solvent extracted copra meal contains only 2-4% oil. Premium quality copra oil meal can also contain 20-22% crude protein, and <20ppb aflatoxin.Coconut oil can be used as a skin moisturizing, helping with dry skin and prevents protein loss when used in hair.

What's More Can We Have?
Once the oil is pressed, the remaining coconut oil cake is 18-25% protein but contains so much dietary fiber; it is normally fed to livestock.
Copra oil meal is used as forage for horses and cattle. Its high oil levels and protein are fattening for livestock. The protein in copra oil meal has been heat treated and provides a source of high quality protein for cattle, sheep and deer, because it does not break down in the rumen.
High quality copra oil meal contains <12% non structural carbohydrate (NSC) which makes this product well suited for feeding to all horses that are inclined to ulcers, insulin resistance, colic, tying up, and acidosis.

Manual Coconut Oil Press for Other Seeds and Nuts
Unlike custom made oil press for specific seeds, our new manual oil press machine have far more benefits for the reason that they can be used to press many types of oil from various seeds and nuts, you no longer have to take the harvested seeds to the factory for processing.
Frenquently Asked Questions about Coconut Oil Press
★ Why the copra is ground into a pulp during pressing?
-The copra contains too much moist, therefore there is no solid plug of oil cake in the cap. Dry the coconut until a 10% moisture content.
-The slit is blocked.
★ Why Is There No Oil Production From the Coconut?
- The seed is too dry.
- The seed is too wet.
- The oil content is lower than 25%.
- The press is preheated insufficiently.
★ What is the best way to clean my coconut oil press expeller?
Unscrew the cap from the press and remove the expeller screw and the wear washer at the end of the shaft of the expeller screw. Clean the inside of the press with paper towels. A bottle brush can be a very useful tool as well! Leave some oil in the press and on the expeller screw to prevent corrosion.

Economic Benefit Analysis for Our Manual Oil Press