Manual Oil Press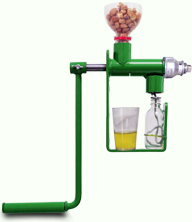 Features:
Continuous pressing of oil seeds and nuts (undecorticated, no pre-treatment required ! )
More than 10 types of seeds can be pressed!
(peanuts, rapeseeds, sesame, copra, cottonseeds, hazelnut, linseed, oil palm kernel, pumpkin seed, sun flower seeds, walnuts).
High oil production: Up to 1.5 litres oil per hour
Small size:
350*60*316.5mm, fits in A4 envelope(2.18 kg / less than 5 pounds)
Portable, one person is able to operate anywhere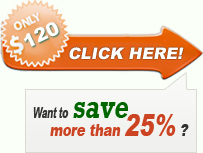 Zambia
Economic Benefit Analysis of AGICO Hand-crank Oil Press in Zambia in 2010
All the data from FAQs were received indicating various costs by using AGICO Hand-crank Oil Press such as:
Sunflower Seed
Sunflower Oil
Oil Cake
Labour Cost
Exchange rate
ZMK 480 / kg
ZMK 4.300 / kg
ZMK 335 / kg
ZMK 3.500 / day
ZMK 900 / US$
A working day consists of 6 hours pressing and 2 hours light work like sifting seed and decanting oil.
The hand-crank home oil press delivers 1.2 kg oil/hour.
In the following economic analysis it will be assumed that the lady will sell her oil and oil cake at a 10% discount at home.Thus ZMK 3.870/kg sunflower oil and ZMK 300/kg oil cake. Lampoil is estimated at ZMK 4,000/litre.
Income, Expenditure and Profit for Seed Oil Pressing in Zambia
Income
7.2 kg oil – 0.3 kg sludge = 6.9 kg oil x ZMK 3,870/kg oil
ZMK
26,703
14.8 kg Oil cake at ZMK 300/kg, 14.8 x ZMK 300/kg
ZMK
4,440
Total income per working day
ZMK
31,143
Expenditure
22 kg sunflower seed xZMK 480/kg
ZMK
10,560
Wage of one labourer at ZMK 3,500/day
ZMK
3,500
Lamp oil 40 ml/day, 40/1000 x ZMK 4,000/litre
ZMK
160
Detergent for bottle cleaning
ZMK
250
Unforeseen 5% or 0.05 x ZMK 15,850
ZMK
800
Depreciation of investment: 6.9 kg oil x ZMK 180/litre oil
ZMK
1,380
Total expenditure per working day
ZMK
16,665
Profit Per Working Day
Profit per working day is ZMK 31,143 - ZMK 16,650
ZMK
284
Profit/kg oil is ZMK 14,493 : 6.9 kg oil
ZMK
2,100
Profit (Value added) per kilogram seed ZMK 14,493 : 22 kg
ZMK
658
AGICO hand-crank oil press can be repaid at least within one month and credit for such a short period may not be a problem. A more up to date analysis can be made by inserting the most recent prices within this analysis.The total investment of US$ 100, at ZMK 900/US$, could be repaid within US$ 100: ( ZMK 14,493 : ZMK 900/US$) = 6 to 8 working days under Zambian conditions.
For any further information on AGICO hand-crank oil press,please kindly send your query in the following form.We are always at your service.