Manual Oil Press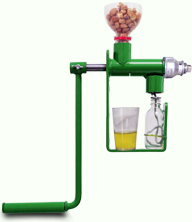 Features:
Continuous pressing of oil seeds and nuts (undecorticated, no pre-treatment required ! )
More than 10 types of seeds can be pressed!
(peanuts, rapeseeds, sesame, copra, cottonseeds, hazelnut, linseed, oil palm kernel, pumpkin seed, sun flower seeds, walnuts).
High oil production: Up to 1.5 litres oil per hour
Small size:
350*60*316.5mm, fits in A4 envelope(2.18 kg / less than 5 pounds)
Portable, one person is able to operate anywhere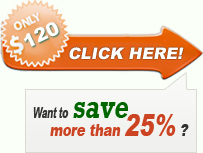 Pakistan
Economic Benefit Analysis of AGICO Hand Oil Press in Pakistan in 2010
Basic data were received from Khurshid Lodhi of Lever Brothers Pakistan Ltd. Assumed is a working day of 8 hours of which 2 hours are for light work like cleaning seed, decanting, bottling oil and rest.
Rapeseed
Rapeseed Oil
Press Cake
Labour Cost
Rs 20/kg
Rs 100/kg
Rs 12/kg
Rs 100/day
A working day with AGICO hand oil press consists of 6 hours expelling and 2 hours light work like sifting seed and decanting oil.
Income, Expenditure and Profit for Edible Oil Pressing in Pakistan
Income
6 hours x 1.224 kg oil/hour x Rs 100/ kg oil
Rs
734
14.2 kg press cake x Rs 12/kg
Rs
170
Total income per working day
Rs
904
Expenditure
21.6 kg rapeseed x Rs 20/kg
Rs
432
Labourer at Rs 100/day
Rs
100
40 ml lamp oil/day
Rs
3
Expeller depreciation at 7.3 kg oil x Rs 8/kg oil
Rs
58
Unforeseen 5% of Rs 535, 0.05 x Rs 535
Rs
27
Total expenditure per working day
Rs
620
Profit Per Working Day
Profit per working day is Rs. 904 – Rs. 620
Rs
284
Profit/kg oil is Rs. 284 : 7.3 kg oil
Rs
39
Profit (value added) per kg seed is Rs. 284 : 21.6 kg
Rs
13
At Rs 40/US$ and US$ 100 total investment the press can be repaid from the profits in US$ 100 : (Rs 284 : Rs 40/US$) = 14 working days or within processing 300 kg rape seed. A more up to date analysis can be made by inserting the most recent prices within this analysis.
For any further information on AGICO Manual Oil Press ,please kindly send your query in the following form.We are always at your service.