Manual Oil Press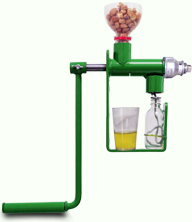 Features:
Continuous pressing of oil seeds and nuts (undecorticated, no pre-treatment required ! )
More than 10 types of seeds can be pressed!
(peanuts, rapeseeds, sesame, copra, cottonseeds, hazelnut, linseed, oil palm kernel, pumpkin seed, sun flower seeds, walnuts).
High oil production: Up to 1.5 litres oil per hour
Small size:
350*60*316.5mm, fits in A4 envelope(2.18 kg / less than 5 pounds)
Portable, one person is able to operate anywhere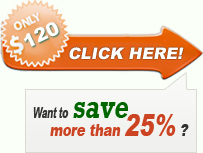 Ethiopia
Economic Benefit Analysis of AGICO Crank Oil Press in Ethiopia in 2010
All the basic data were provided by Birale Agricultural Development PLC in Ethiopia
Niger Seed
Niger Seed Oil
Press Cake
Labour Cost
Lamp Oil
Birr 3/kg
Birr 12/kg
Birr 0,6/kg
Birr 8/day
Birr 6/litre
A working day consists of 6 hours pressing and 2 hours light work like sifting seed and decanting oil.
Income, Expenditure and Profit for Edible Oil Pressing in Kenya
Income
1.5 kg oil/hr x 6 hrs x Birr 12/kg oil
Birr
108
3.3 kg press cake/hr x 6 hrs x Birr 0.6/kg
Birr
12
Total income per working day
Birr
120
Expenditure
4.8 kg seed/hr x 6 hrs x Birr 3/kg seed
Birr
86
Labour cost at Birr 8/day
Birr
8
Lamp oil at 40 ml (0.04 litre)/day
Birr
1
Detergent for cleaning bottles
Birr
2
Unforeseen 5% or 0.05 x Birr 97
Birr
5
Depreciation investment 9 kg oil x Birr 0.8/kg oil
Birr
7
Total expenditure per working day
Birr
109
Profit per Working Day
Profit per working day is Birr 120 - Birr 109
Birr
11
Profit per kg niger seed oil Birr 11 : 9 kg oil
Birr
1.2
Repayment
At a total investment cost of US$ 100 repayment, using profits only, can be done in:US$ 100 : (Birr 11 : Birr 8/US$) = 72 days
This repayment time may be too long when only processing niger seed. However, if the housewife chooses not to employ a labourer she can still earn Birr 8/day.
A more up to date economic analysis may be made by inserting the most recent prices
For any further information on AGICO crank oil press,please kindly send your query in the following form.We are always at your service.